Pages

Friday, January 2, 2015
Posted by Nikki
at 4:09 PM
1 comment:

I know my Savior lives!!!
You can click on this link to access the posters I made to accompany the graphics!
xox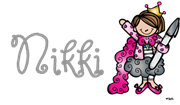 Posted by Nikki
at 3:48 PM
2 comments:

I LOVE this theme!
Hopefully I can bring it into my life more fully in the coming year.
Happy 2015 my friends!
xox